Clinic Updates:
Our Master Esthetician Jeannine Black will be out of the office from November 3rd to November 12th.
Call/text 206-632-5500 today to schedule your facial/skincare treatment for before she leaves for vacation!
What's Open?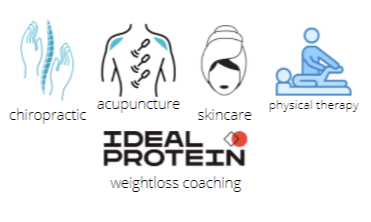 Pre-Order Ideal Protein Products Online
Schedule for the above services by calling/texting 206-632-5500 or emailing [email protected]
Schedule a chiropractic adjustment online
       Reminder: ePay invoices go out today (check your emails/texts for a link to pay online)
Please contact us ASAP if you are experiencing financial hardship and we will create a payment/deferment plan that fits your needs.
Self-care tip: How to Deal with Maskne

If you are experiencing "maskne," it can be tempting to throw a lot of products at the problem, but that could actually further aggravate your skin, Moshiri says. "Now is the time to simplify your skin care routine."
Use a gentle cleanser and products designed to hydrate, repair and support the skin's barrier function, Engelman said. Skin irritation caused by friction can be alleviated with moisturizing ointments, and cleansers containing salicylic acid, benzoyl peroxide or elemental sulfur are recommended for treating breakouts, Braff reported.
It is best to avoid wearing makeup, which can soil your mask and clog your pores. Read more about preventing and treating maskne as well as what to do if your mask gets wet and how to encourage children to wear masks at this Seattle Times Article.
Local Spotlight: Support Black Farmers
Nyema Clark, urban farmer and founder of Nurturing Roots, feeds chickens on Sunday, September 27, 2020, at Nurturing Roots in the Beacon Hill neighborhood of Seattle. Credit: KUOW Photo / Megan Farmer
(Excerpt from Black Joy Newsletter) "For Nyema Clark, Black liberation looks like: 40 or so acres in Auburn, Washington. It's called Red Barn Ranch and it belongs to Seattle Parks & Recreation. It hasn't been used in years but soon Nyema Clark will enliven its soil, and invite people to heal and grow. To reap and sow. She will call this land the 'Red, Black and Green Barn Ranch' – to honor the colors of Black liberation.
When she works the land, she feels whole. 'I feel like my ancestors are talking to me,' she says. Nyema is the founder of Nurturing Roots on Beacon Hill, but she wouldn't dare call herself the executive director. She is the Farm Queen.
Nurturing Roots is a healing farm where the weeds of capitalism have been ripped out. You don't pay for the fruits or vegetable, and there's no supply and demand. It is land and food for the people. And now, with the dream of healing Black and brown people on a farm, she is expanding to Auburn. It is an ideal that pushes white institutions to consider giving up their idea of ownership."
Take action to support Black farming and learn more here.
Extra Resources
Seattle COVID-19 Resources: hub of community, city, county, state, and federal resources from food access to rent and utility assistance and support for independent artists. Some of these programs and services are available to everyone regardless of where you live. 
Leave a Review
Satisfied with our services! Leave us a review for our Eastlake location (main location) and our Madrona location. Thank you all so much for your support. We are a community here at Alliance and we'd be nothing without your support!